AUTHENTIC BRANDY FROM PURE FRUIT
Artists and alchemists have one thing in common: both take something which already exists and transform it into something new. We have devoted ourselves to the art of transforming the finest fruit available into exquisite fruit brandy. As a family-run business, we are passionate about preserving this centuries-old Tyrolean tradition.
In the knowledge that it is only possible to produce outstanding brandy by using first-class fruit, we select the finest varieties from the best growing regions. Our fruit is harvested at maximum ripeness and left to ferment naturally. Once it has been gently distilled twice, the brandy matures slowly over several years in order to bring the full flavor of the fruit to its purest form. That is the essence of traditional fruit brandy from Tyrol.
PRODUCT RANGE
CLASSICS, RARE VARIETIES AND CUVEES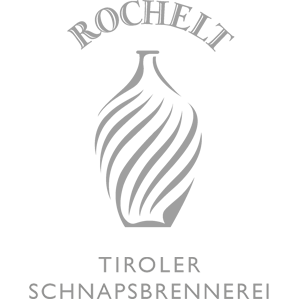 Cuvee
Special edition
Distiller's Reserve
Specialties
DISTILLER'S RESERVE
OUTSTANDING VINTAGES
Just as every harvest is unique, so is every variety and every vintage. In some years nature blesses us with exceptional raw material for outstanding fruit brandy – and it is only this best of the best which forms the basis for our Distiller's Reserve.
These brandies are left to mature for at least ten years – longer than our standard distillates – and are deliberately kept high in alcohol. This results in an exquisite fruit brandy that does full justice to the exceptional qualities of a vintage harvest.
For our Distiller's Reserve range we have created a special stopper decorated by hand with more than 400 Swarovski crystals. The Distiller's Reserve is therefore an exclusive rarity in both taste and appearance. Our Distiller's Reserve fruit brandies come with two tasting glasses designed to accentuate the character of these outstanding vintages.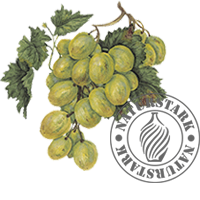 aged in dame jeanne for 20 years, alcohol: 60%vol., total production: 185 bottles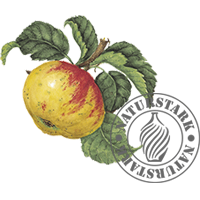 aged in dame jeanne for 19 years, alcohol: 62%vol., total production: 325 bottles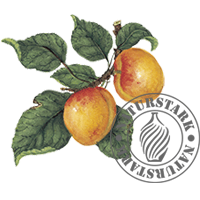 aged in dame jeanne for 17 years, alcohol: 60%vol., total production: 520 bottles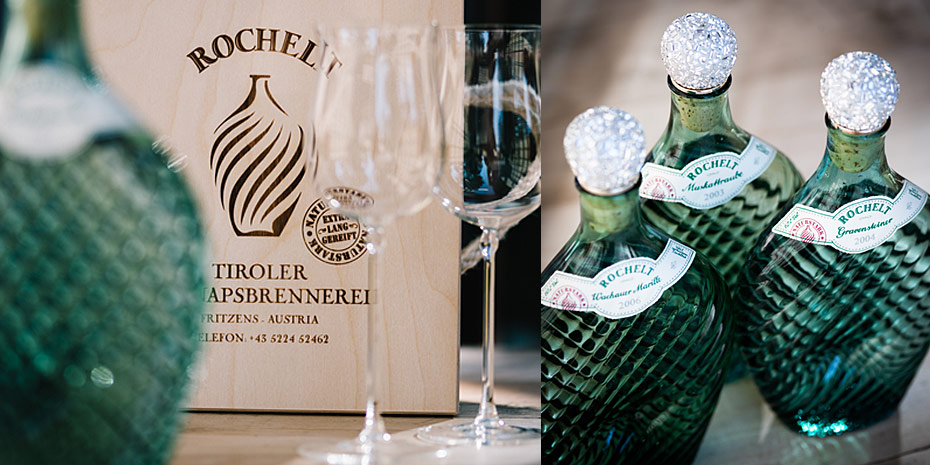 TASTING
THE RIGHT BRANDY IN THE RIGHT GLASS
Because the shape of a glass influences the taste of its contents, we have developed our own tasting glass. Specially designed for our strong and fruity brandy, it has a tulip-like form which contains the bouquet in the glass while the palate benefits from a truly amazing concentration of fine fruit flavors. Each one is handmade by local glass artist Patrik Winkler in his workshop in Kufstein, Tyrol.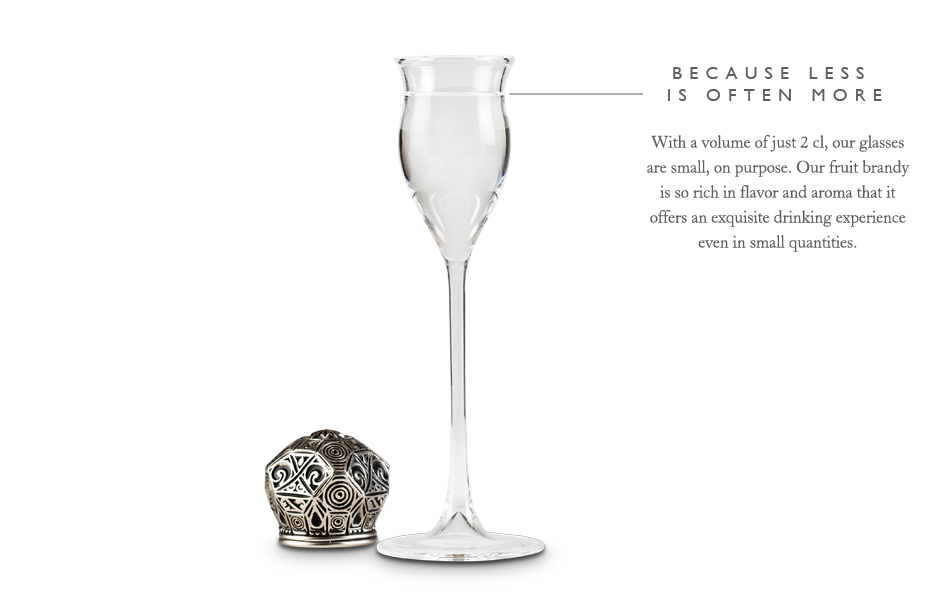 SIPPED, NOT TIPPED
Instead of tipping our fruit brandy down all in one, we recommend enjoying it sip by sip with great attention or even filling the glass only half-way (1cl). After a fine meal, serve Rochelt fruit brandy at room temperature – only then is it able to release its full flavor and soothing effect.
THE TRADITIONAL TYROLEAN PINCER BOTTLE
OUR FRUIT BRANDY COMES IN A SPECIAL BOTTLE
With its shimmering green glass and striking shape derived from the traditional Tyrolean "pincer bottle", the Rochelt bottle is unmistakable in both form and color.
Our modern version of this centuries-old design is made by glass artist Alfred Ecker from Innsbruck and demands the same level of creativity and attention as the fruit brandy itself. After all, we believe that a truly special product deserves truly special packaging. Our distinguished bottle embodies the tradition of Tyrolean glass craftsmanship and ensures the authenticity of our brandy.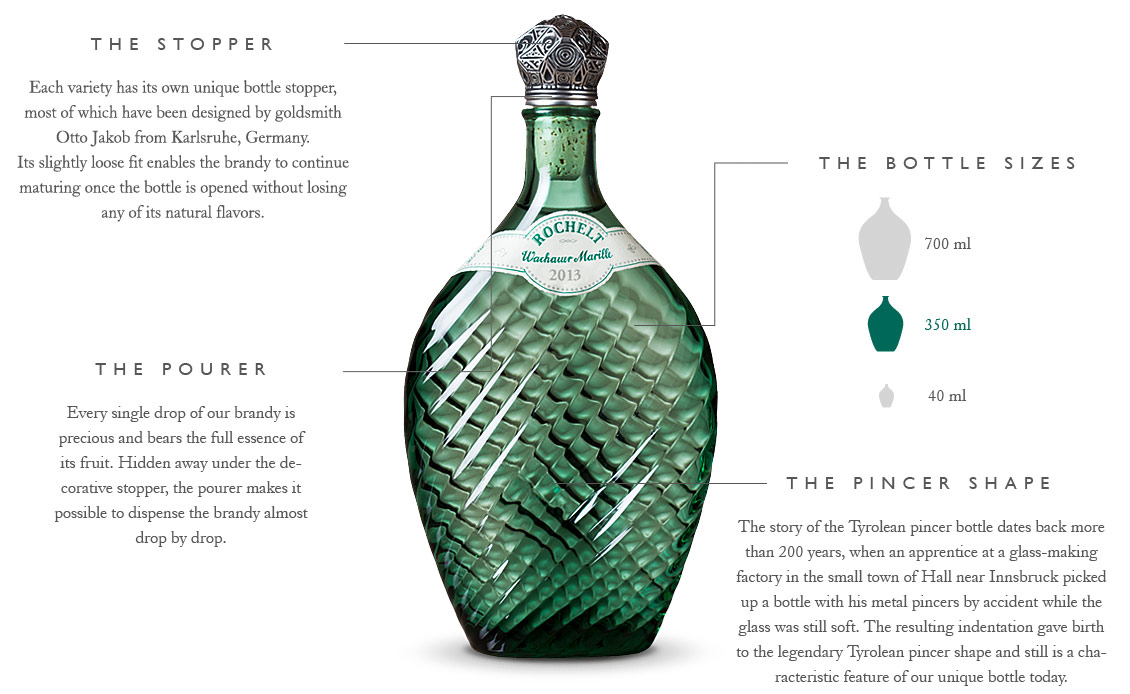 THE GLASS POCKET FLASK
Enjoy the taste of Rochelt fruit brandy on the go. The glass pocket flask has the same characteristic shape and color as the full-sized brandy bottle but is smaller in size and has a slight curve that allows it to be easily carried in a trouser or jacket pocket. The stopper doubles as a small shot glass – or why not follow tradition and drink straight from the bottle? The refillable flask holds 100ml and is available in ten different fruit brandy varieties.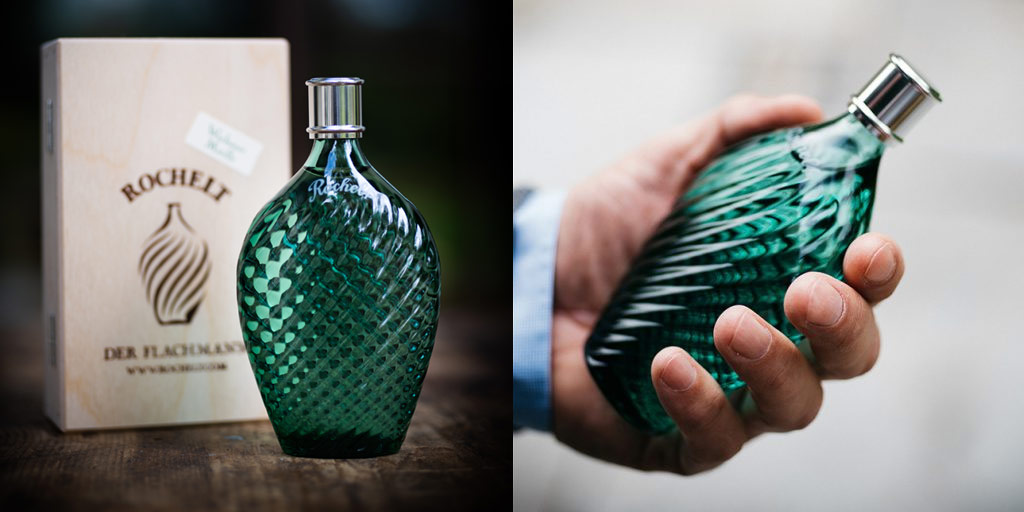 SMALL TASTING BOTTLES
With so many different varieties available, choosing a Rochelt fruit brandy can be a tricky decision. Our small tasting bottles (40ml) are an ideal present and a convenient way to get to know our broad product range. We offer 21 different varieties or three tasting sample sets with seven bottles each – named after the three daughters of Günter Rochelt, founder of the the Rochelt distillery.
Set Julia
Wachau Apricot
Black Elderberry
Wild Plum from Piedmont
Wild Rowanberry
Gewürztraminer Grape
Morello Cherry
Der Inntaler
(Quince, Williams Pear, Wild Raspberry)
Set TERESA
Wild Raspberry
Williams Pear
Blackcurrant
Gravensteiner Apple
Orange
Muscat Grape
Kasteler
(Wild Rowanberry, Williams Pear, Plum)
Set ANNIA
Red Williams Pear
Annia's Gin
Quince
Mirabelle Plum
Sloe Plum
Basel Cherry
Hollermandl
(Williams Pear, Black Elderberry)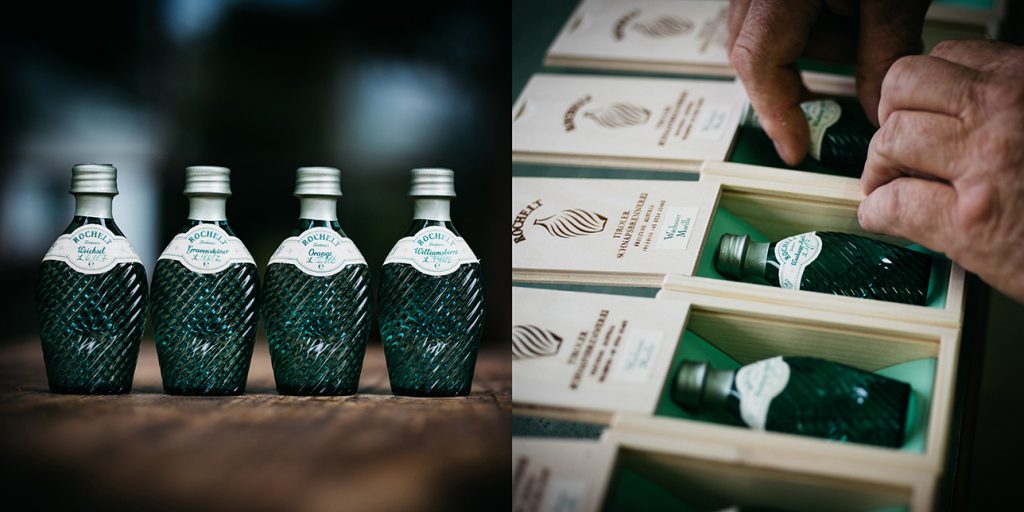 THE SILVER POCKET FLASK
A precious item of lasting value. Made from pure silver and produced in a strictly limited edition, our elegant silver pocket flask combines fine craftsmanship with timeless design. Each individually numbered flask is crafted by German silversmith Hermann Bauer in his workshop in Schwäbisch Gmünd. The current edition comprises only 205 pieces. Upon request each flask can be engraved with personal initials.