PASSION PLUS PERSEVERANCE
"Searching for mushrooms in the forest, picking arnica in spring, collecting honey from the beehives, tending to the herb garden, baking bread, exploring my grandfather's orchard, and mashing the fruit after harvest – those are some of the earliest childhood memories I have of my father. He taught my sisters and me to respect nature and people. It was he who showed us how to appreciate all that is good, authentic and genuine. These values form the foundations of our family-run business."
JULIA KRÄH-ROCHELT
COMPANY PHILOSOPHY
QUALITY YOU CAN TASTE
The values behind our family-run business are the basis for everything we do. Here at Rochelt, our company philosophy reflects our view of life: pleasure, passion, and dedication to timeless quality.
We celebrate the traditional Tyrolean art of distilling and create exquisite fruit brandy using only the finest natural ingredients.
For us, only the best is good enough. The quality of each year's harvest determines the quantity of brandy we produce. This means that in good years we are able to produce more of a certain variety than in less bountiful years. And if, in any given year, unfavorable weather or ripening conditions mean the fruit does not meet our strict quality criteria, we simply don't make any of that variety. Therefore, we cannot guarantee the availability of specific vintages and varieties. We can, however, promise that the fruit brandy which is finally bottled is of the very highest quality.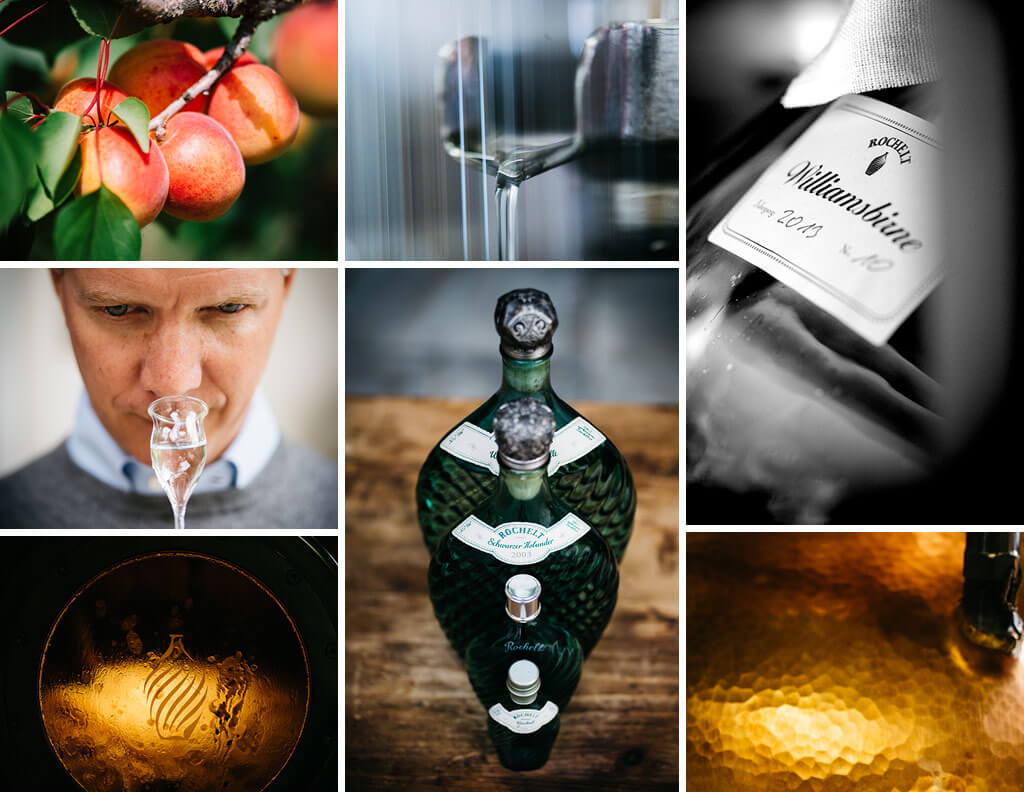 AMBITION
QUALITY KNOWS NO COMPROMISES
SMALL DISTILLERY WITH HIGH STANDARDS
We want to remain a small family-run business. This is because we are convinced that only through small-scale production can we maintain our uncompromising demand for the highest quality right down to the very last detail.
REDUCTION TO THE ESSENCE
We take the best that nature has to offer and reduce it to its essence. Our fruit brandies are 100% natural, pure and authentic – from the raw material through the production process to the finished distillate, we place our trust in the perfection of nature.
TIME, PASSION AND PATIENCE
Passion and patience are the key ingredients to turn something good into something extraordinary. That is why we take our time – from start to finish. We don't shake the fruit from the tree before it is ready; instead, we harvest each variety only when it is fully ripe. We allow the mash the time it needs to ferment slowly and naturally. Each Rochelt brandy is carefully distilled twice in order to maintain the delicate flavors of the fruit. And, even if we are all keen to know the final result, we make sure every vintage is left to mature in open glass balloons to the point of perfection. Only then, when the brandy is strong in alcohol, smooth in taste and full of delicate flavors, do we let ourselves enjoy it. Slowly. Sip by sip.
"Fine fruit is the stuff our dreams are made of – it holds the secret to outstanding quality."